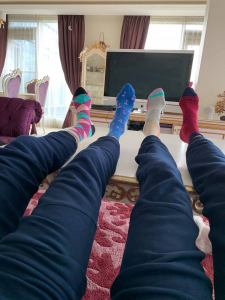 I and Darjus are putting two different socks on today and proudly joining the World Down Syndrome Day initiative. Why? Because there are still a lot of stigmas surrounding difference that need to be debunked. And we are on it!
Like the two brothers, which got constantly bullied for being unusually tall at school, we know what it means to be different. It's funny how today being the tallest twins in the world, our height is what we are famous for! Making your weaknesses into strengths is the key, but you need a lot of support to make it happen. We are lucky enough to have a supportive family and a strong team behind everything we do: be it basketball or our brand – LavTwins. But what if you are less fortunate?
Then you need as much support as possible and days like this are perfect for that! This is our advice for everyone who is having a hard time for being different – surround yourself with supportive people and love your difference to bits. It can bring you a fortune.
Stay positive guys!
Lavtwins