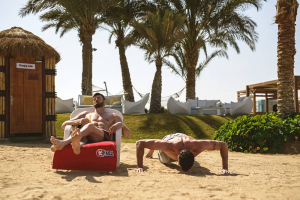 The past half a year has been a hectic one. Since September 2018 we've been immersed in building our brand – LavTwins and on top of that working our asses off playing in the national basketball league with BC Prienai Skycop. By February it was clear – it's time for a break.
We packed our stuff, wives, kids, took a four-hour flight and here we were – the tallest twins in the world under the Egyptian sun. Three words – it was awesome! At least for the first day. Sadly, on the next one, we woke up looking like two giant crabs. What's worst we had a full list of videos and photos for our social media channels to pose for! You should have seen the face of our manager when we met for breakfast – she wasn't very pleased with the view. So here we were, two tallest twins in the world caramelized to perfection.
By noon Darjus and I decided to spend some time apart. After a good few hours in a swimming pool, I met my wife for lunch. "Did you forget anything?" the waiter asked me. "Yes! My sun cream," I replied thinking he was trying to pull a joke. Apparently, I had bigger problems – my memory was suddenly failing. "Sorry sir, but you've already had your lunch. We already served you," replied the waiter. He took me to the security room where we checked the CCTV footage and, for the love of God, he was right – a 2-meter crab looking exactly like I walked into the restaurant. Gladly, my wife knows me better than I do. "It's Darjus, not you, silly!" she said. Back in Lithuania, everybody knows us well, but there was a lot to learn about LavTwins for Egyptians.
One of the very last adventures that all of us have been waiting for was scuba diving in the red sea. All we had to do was jump in our wetsuits and enjoy the underwater magic. What we actually did was suffer in pain for two hours. Apparently, you can't be the tallest twin in the world and expect to fit in a regular wetsuit. Ouch. If anyone knows where we can get proper wetsuits, let us know! The sea was beautiful, but the pain is still giving me nightmares.
All in all, the crew filmed most of the activities we've managed to fit in a week. We are talking dinners at 6 different restaurants, scuba diving, sand sculpting championship, trip to the local market, our first water aerobics class and much more. But as the saying goes, a picture is worth a thousand words. So instead of further writing about what we've been through we stop here and recommend you to check LavTwins social media channels. Don't forget to like, comment and share!
Stay positive guys!
LavTwins