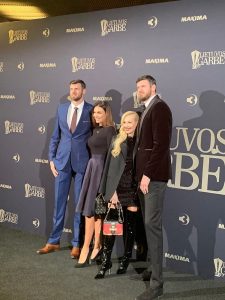 If you save a life, you save a world and Tadeusz with Ceslav have saved not one, but two. Today we had a chance to meet these superhero brothers, who've saved two little girls from the burning house right before it exploded. Sounds like a plot of an action movie? It sure does.
It was a big honour to be selected as award presenters for the Rescuers of The Year nomination. Though we're not sure why they've decided to invite us, as our social media accounts were the only things we've rescued this year. Nevertheless, we dressed up, wrote a short speech and got ready to meet the two brothers who didn't doubt a second and jumped in a burning house to save lives. Only stories like these can have your faith in humanity restored.
The nomination ceremony got us pumped up. By the end of it all, we wanted to do was help someone out. Our wives were not so keen, though, as they didn't agree on taking home the two kittens we found on the streets on our way home.
Maybe next time, maybe at Christmas or maybe you can do it? Please save those kittens, but above all…
Stay positive guys!
LavTwins