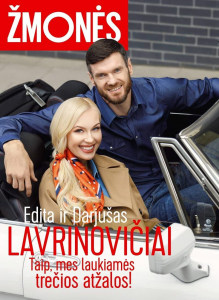 Oh boy, oh boy, oh boy! So much excitement. Lavrinovic family will soon welcome its 10th member. I am over the moon, as I was hoping to have a third child for a few years now. Ksistof says he's happy too. Well, it seems like everybody is, as we got invited for the cover story in Zmones magazine to talk about our family and plans for the future.
The interview went smoothly, but not the photo-shoot. Edita loved it, of course, but she is a gorgeous woman that thrives in front of a camera, yet for me, those photo-shoots always cause some level of stress. Imagine my face when they showed me the car I'll need to fit in for the shoot. It was Alfa Romeo Spider. Are you kidding? At least we could put the convertible's top down. Otherwise, I would have looked like my unborn child in his mother's belly – now everybody comes to a child's pose.
Also, Gediminas, you are a great photographer, but why didn't you hide the sticker left by the laundry service on my shirt? Oops-a-daisy! Well at least know everybody knows that my shirt is spotless.
Other than that, we are fine and most importantly, Edita feels healthy and doctors say that all is well. For the next few months, we will be getting ready for the new family member to arrive.
Stay positive guys!
Lavtwins