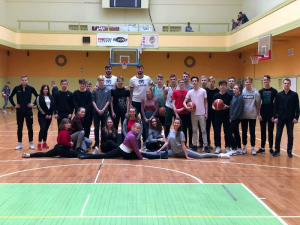 Whether you have kids or not, there is a certain sense of responsibility when you are speaking with young people. Lithuanian Sports University invited us to coach a group of schoolchildren for their special event. It was so many of them! Energetic boys and girls eager to do whatever you ask them to do and this why you feel like you're on a mission here.
We've not only played ball with them but also talked a little about what's important in life, how to achieve something you want and inspired them to dream. At least we hope we did. These kids are the future and you really want to give all you have to help them become the best versions of themselves.
Darjus and I, we both love working with kids, thus we'll try to do it full time in the future. Currently, we're studying for that in the same Lithuanian Sports University, but in the future, we hope to pass our knowledge about basketball and life in general on the daily basis, because ball is life and life is ball. Think about it.
Stay positive guys!
LavTwins