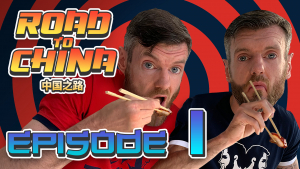 While the world is eagerly waiting for the famous twin brothers Darjus and Ksistof Lavrinovic decision on their basketball career path, LavTwins are putting their efforts into the show business. Having promised to conquer the Hollywood, brothers are making their step into the world and their first stop – China. It is anticipated, that "LavTwins", besides visiting the country, will appear in numerous podcasts, local TV shows, and events. The famous brothers announced the news in a newly launched episode of Youtube series.
The first episode of the "Road to China" Youtube series was a Vlog-like experience, where brothers and their teacher Yaoju watched viral Chinese videos, challenged each other in a chopsticks battle and tried the famous Chinese delicacy – a Century egg, which put a priceless reaction into Darjus' face.
As he recalls: "Egg, but it's not an egg. It looks good on the outside, but once you peel it off, it reeks so bad, makes you vomit. Yaoju told us how they are made – they marinate it for 30 days, which makes them transparent, but with black color. Imagine, what if jello was held in soy for 30 days, what would be left of it? Stench and taste of grandpa's socks".
Tallest twins in the world have challenged each other in a one-on-one battle: eating 14 M&M's with chopsticks. The complete episode of their preparation for China can be found on Youtube. The Road to China series will cover their preparation to the other side of the world. Brothers have promised to try their scooter driving skills, learn Tai-Chi and break their tongues learning the Chinese language.
In order to attract the attention of the far-east country, the episodes and their descriptions will be subtitled in both Chinese and English.
Darjus explained: "We are constantly creating lots of videos, participate in various social media challenges – anywhere, we can with our old bones. Most of the challenges come from China and we are quite good at it. A couple of videos and we're already popular in TikTok, with views and likes surpassing our Facebook content".
According to the brothers, some of their most successful videos have been watched over 3 million times. "It's quite simple: we get an idea, shoot a video and boom – millions of people are watching, trying to replicate. Of course, a big part of that is our team – they are looking for insights, create strategies. That's why, after a bit of consideration, we decided to focus on China. At least this year"
Brothers Darjus and Ksistof, or as they call themselves, the tallest twins in the world, have already taken parts in various projects: Emmy nominee G. Walksman made a documentary on them, wax copies of the twins should soon be displayed in China and later – throughout the world, and in the meantime brothers are attempting to get a Guinness World Record for the tallest twins in the world.