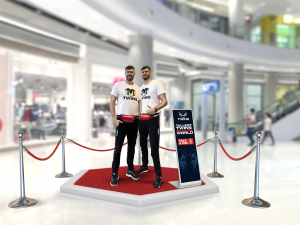 The tallest twins in the world, brothers Darjus and Ksistof Lavrinovic are keeping their promise to conquer Hollywood and the first step in their road to glory is a trip around the world. Although, as it appears, it's not going to be them personally, but rather their wax copies. Some of the most famous Chinese artists are creating the wax replicas of the famous brothers. And the doubles should which should reach the Shanghai shopping malls by this autumn and will later appear in other places around the globe.
Natural-sized LavTwins wax doubles will be exhibited in a city with 24 million inhabitants early this autumn. Global Harbor and Cloud Nine, over 3000 sq. m. shopping malls are two of the most predicted locations for the premiere. It is calculated, that brothers' wax doubles should attract over 5 M selfies.
Zhongshan Grand Orient Wax Art Co. – the company behind 600 wax figures, which are currently displayed in over 30 wax museums around the world, is responsible for the wax replicas of LavTwins. Their newly-created sculptures of the twins will join such wax icons as Donald Trump, Kobe Bryant, Arnold Schwarznegger, Merilyn Monroe, Lady Gaga and many others.
As a representative of Zhongshan Grand Orient Wax Art Co. commented: "This will be the largest sculptures we have ever made. Two sculptures, 212 and 210 cm respectively, and it takes courage to produce them both at the same time. It's an unusual challenge, but we have the twins' support – they volunteered to come and help us. We're certainly happy that brothers chose us. It's going to be a great addition to our collection."
LavTwins are rather demanding: the glass fiber and plastic carcass of their sculptures must be the same height as theirs: "If Mohammed will not come to the mountain, then Lavrinovic must go to Mohammed. Isn't that how the saying goes? Back in 2008, when we were in the Olympics in China, people were lining up to take a picture with us as they are doing now when a new iPhone gets released. We are like aliens to them".
Shanghai is just the first step in the wax copies' trip around the world. Next in plans – New York, London, and other key cities. LavTwins have promised to visit every city where the wax sculptures will reside.